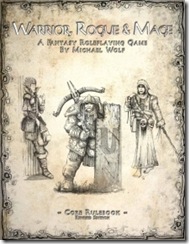 Warrior, Rogue and Mage by Stargazer Games
Concept: A traditional fantasy game based on an innovative rules-light classless system.
Presentation: 41 pages in single column format using beautiful borders, fonts and cleverly used art. The production values are extremely high for a free product and most certainly better than many other paid products I've seen.
Setting: WR&M can be used as a system to play most kinds of traditional fantasy games involving, erm, warriors, rogues and mages. The designer created the game to be used with a fantasy world called Vaneria in mind, which gets a couple of pages worth of coverage in the book. Vaneria is fairly standard as fantasy settings go, with the action centred around a former grand empire shattered by a terrible civil war. Since the whole world is described in very loose terms in just two pages nobody should expect the next Greyhawk killer, but since WR&M works very well as a generic fantasy system the lack of a detailed setting is no crime at all.
System: WR&M is based on a very simple but nevertheless ingenious idea. Instead of having classes, as is traditional in many fantasy roleplaying games, each character has 3 attributes which control every action in the game and are based on the three main archetypes of the fantasy genre: the Warrior, the Rogue and the Mage. Putting points in the Warrior attribute makes you stronger, more resilient and better with swords and maces, while investing in the Rogue attribute increases your agility, stealth and proficiency with dagger, bows and other such weapons. If you want to go with a "pen is mightier than the sword" approach, you should put your faith in the mage attribute, which increases your knowledge as well as the ability to use magic.
Action resolution is extremely quick and simple: roll a d6 and add the controlling attribute to the result, trying to beat a target number set by the GM. WR&M uses "exploding" dice, so if you're lucky enough to roll a 6 you can add another die to your score. Having a skill that is relevant to the attempted task will also grant you a +2 bonus. When the things get tough, players can use Fate points to get bonuses to their roll or to avoid an ugly and premature end.
Character creation: Characters in WR&M are based on the three attributes giving the game its name. By distributing different amounts of points in each attribute, players can come up with vastly different characters without being burdened with lengthy class mechanics, special abilities or combinations that make little sense. Splitting your points between Warrior and Rogue would create something very similar to a ranger for example, while Rogue and Mage would be great attributes for an efficient arcane assassin.
Characters are rounded up by getting some skills and talents. Unlike attributes, skills are not numerically rated and will just provide a +2 bonus to a roll if they're relevant to the action attempted. This is a good design decision, since rated skills would tend to distract from the core attributes which make the game special. Talents are just special abilities that may customise your character a little bit more.
A small problem I had while reading the rules was deftly dealt with just a few pages later on. WR&M is a game where magic is quite common, since anyone with even one point in the Mage attribute would know how to cast simple spells. For those who like their fantasy settings low-magic, there is an optional variant called Warrior, Rogue and Scholar, with the Scholar attribute covering things like knowledge, intelligence and perception. Spellcasting is possible only by taking an extra talent, which I think is a very elegant solution.
Gameplay: WR&M is a rules-light fantasy game, and as such it would be better suited for quick games or for those gamers who believe that complex rules obstruct their style and imagination. Apart from being used as a newcomers' introduction to fantasy roleplaying games by virtue of its simple rules, it could also conceivably being used to run a long-term campaign if the GM is prepared to do some work. There is only so much stuff you can fit in 41 pages and although the game designer has put in rules for different races and several monsters to keep the players occupied, at some point a GM will have to make up some things of his own or wing it.
Combat is based on the same quick rules and is as simple as the rest of the game; in fact, the entire combat section takes up just one page of the book. Of course, there are people who prefer some more detail, more crunch if you'd like, in their combat, and for those I'm told that there is a sourcebook with expanded combat rules, although I have not yet checked that out.
Conclusion: A well-made fantasy game based on a simple but original (and superbly executed) idea. Well-suited both for newcomers as well as fantasy veterans who want to try something simpler.